Madonna and Child
A Madonna (Italian: [maˈdɔnna]) is a representation of Mary, either alone or with her child Jesus. These images are central icons for both the Catholic and Orthodox churches.[1] The word is from Italian ma donna, meaning 'my lady'. The Madonna and Child type is very prevalent in Christian iconography, divided into many traditional subtypes especially in Eastern Orthodox iconography, often known after the location of a notable icon of the type, such as the Theotokos of Vladimir, Agiosoritissa, Blachernitissa, etc., or descriptive of the depicted posture, as in Hodegetria, Eleusa, etc.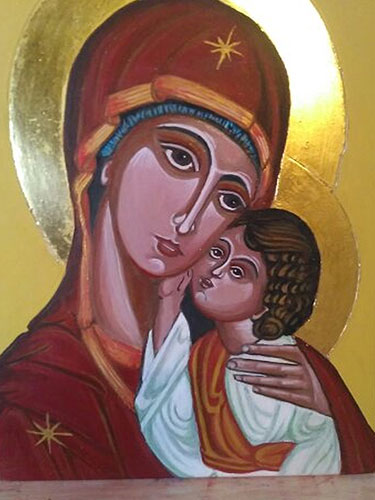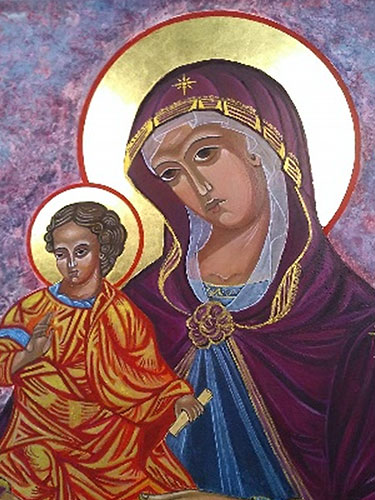 Our Lady the Teacher and Young Jesus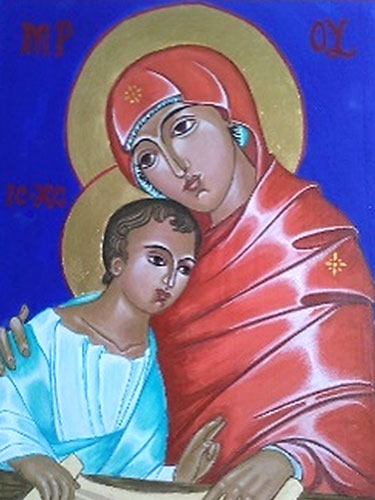 This original icon,  presents an image of Mary as mother and teacher. She is pictured seated at table instructing her son in the Scriptures, handing on the faith of their ancestors, a symbol for what happens each day in the Church at the celebration of the Eucharist.
Our Lady of Perpetual Help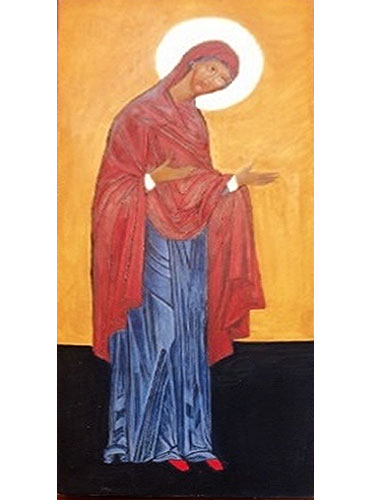 The icon of the feast, which is not found in Byzantine art, depicts in its upper part the Virgin Mary surrounded by a luminous aureole. She holds in her outstreched arms an orarion or veil, which symbolizes the protection of her intercession.[5] To either side of her stand numerous saints and angels, many of whom are recognizable to the experienced church-goer: the apostles, John the Baptist, St. Nicholas of Myra, etc. Below, St. Andrew the Fool for Christ is depicted, pointing up at the Virgin Mary and turning to his disciple Epiphanius. Usually, the veil with which the Virgin protects mankind is small and held either in her outstretched hands or by two angels,[6] though a version similar to the Western European Virgin of Mercy image, with a larger cloak covering people is found in some Eastern Orthodox icons.
Our Lady
"Untier of Knots"