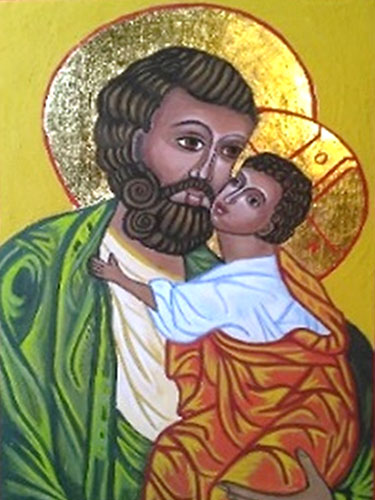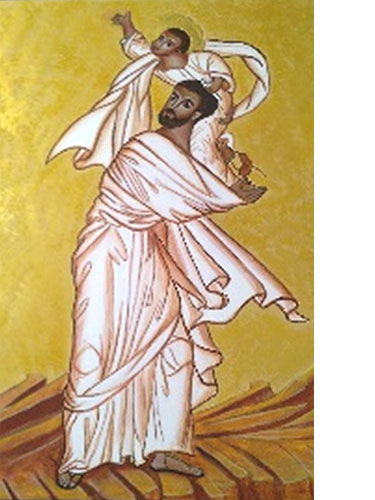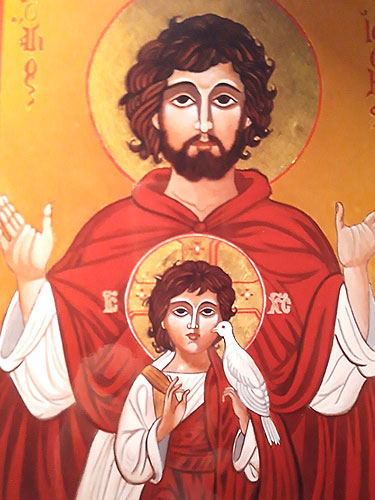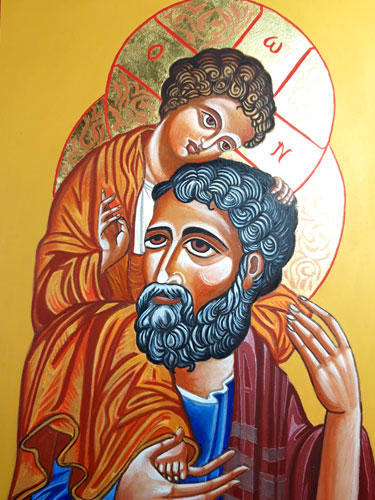 Guardian of the Holy Family and also Guardian of the Church Universal for centuries, Saint Joseph has been one of the most beloved saints of the Church. In these saint icons, Saint Joseph holds a flowering staff that was the miraculous testimony that signalled God's choice of Saint Joseph as the betrothed of the Blessed Virgin.
The second icon is a meditation on the relationships Jesus has with both his earthly father and his Heavenly Father. Jesus and St. Joseph are returning from a trip to the Temple in Jerusalem, still dressed in their white garments. Jesus leaps out of the arms of Joseph and looks up both to heaven and to the Temple, his Heavenly Fathers House.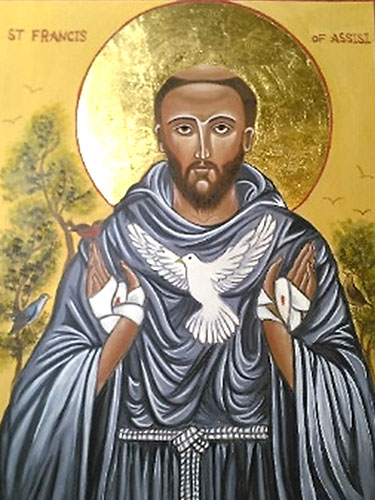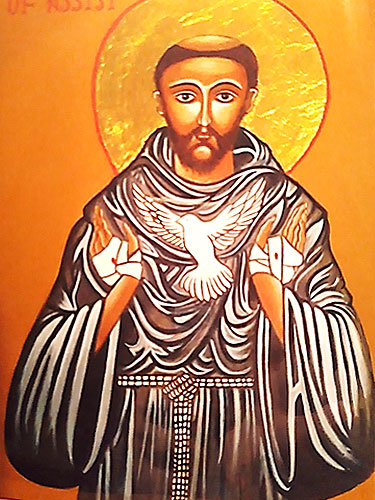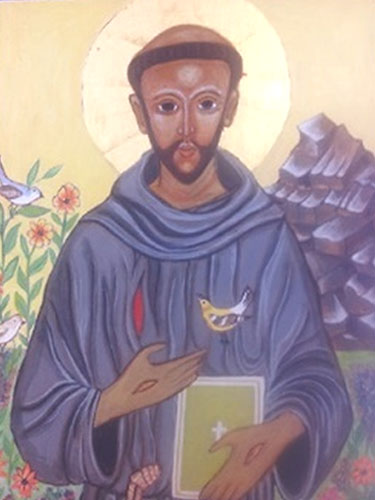 Born in Italy circa 1181, St. Francis of Assisi was renowned for drinking and partying in his youth. After fighting in a battle between Assisi and Perugia, Francis was captured and imprisoned for ransom. He spent nearly a year in prison—awaiting his father's payment—and, according to legend, began receiving visions from God.
After his release from prison, Francis heard the voice of Christ, who told him to repair the Christian Church and live a life of poverty. Consequently, he abandoned his life of luxury and became a devotee of the faith, his reputation spreading all over the Christian world.
Later in life, Francis reportedly received a vision that left him with the stigmata of Christ—marks resembling the wounds Jesus Christ suffered when he was crucified—making Francis the first person to receive such holy wounds.
He was canonized as a saint on July 16, 1228.
Basque: Ignazio Loiolakoa, Spanish: Ignacio de Loyola; c. 23 October 1491[1] – 31 July 1556) was a Spanish Basque priest and theologian, who founded the religious order called the Society of Jesus (Jesuits) and became its first Superior General.The Jesuit order served the Pope as missionaries, and they were bound by a vow of special obedience to the sovereign pontiff in regard to the missions. They therefore emerged as an important force during the time of the Counter-Reformation.
Ignatius is remembered as a talented spiritual director.
Ignatius was beatified in 1609, and then canonized, receiving the title of Saint on 12 March 1622. His feast day is celebrated on 31 July.
St John Vianney – The Cure of Ars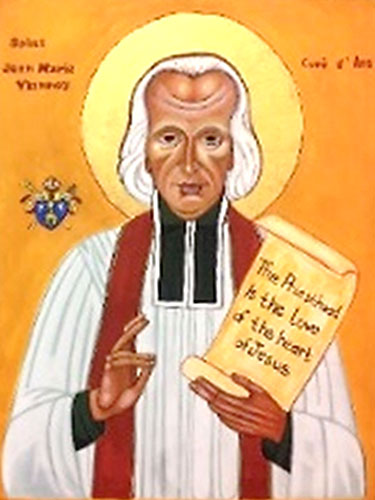 St. John Vianney – The Cure of Ars is the patron saint of parish priests.
Jean-Baptiste-Marie Vianney, T.O.S.F., commonly known in English as St. John Vianney, was a French parish priest who is venerated in the Catholic Church as a saint and as the patron saint of parish priests.
He is often referred to as the "Curé d'Ars", internationally known for his priestly and pastoral work in his parish in Ars, France, because of the radical spiritual transformation of the community and its surroundings.
Catholics attribute this to his saintly life, mortification, his persevering ministry in the sacrament of confession, and his ardent devotion to the Blessed Virgin Mary. His feast day is 4 August.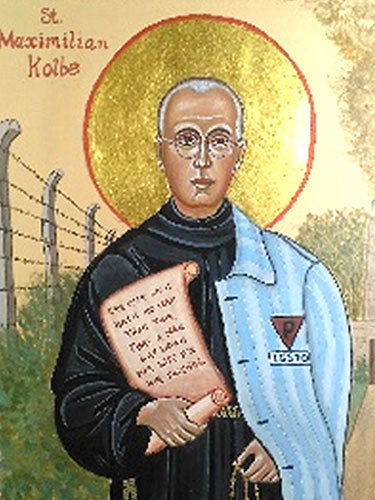 In 1918, Maximillian Kolbe was ordained a priest. In 1936, Kolbe's poor health forced him to return home to Poland, and once the WWII invasion by Germany began, he became one of the only brothers to remain in the monastery. He opened up a temporary hospital to aid those in need. When his town was captured, Kolbe was sent to prison but released three months later.
On February 17, 1941, the monastery was shut down; Kolbe was arrested by the German Gestapo and taken to the Pawiak prison. Three months later, he was transferred to Auschwitz.
Never abandoning his priesthood, Kolbe was the victim to severe violence and harassment. Toward the end of his second month in Auschwitz, men were chosen to face death by starvation to warn against escapes. Kolbe was not chosen but volunteered to take the place of a man with a family.
It is said during the last days of his life Kolbe led prayers to Our Lady with the prisoners and remained calm. He was the last of the group to remain alive, after two weeks of dehydration and starvation. The guards gave him a lethal injection of carbolic acid. The stories tell that he raised his left arm and calmly awaited death.
St. Maximilian Kolbe died on August 14 and his remains were cremated on August 15, the same day as the Assumption of Mary feast day.
Blessed Pier Giorgio Frassati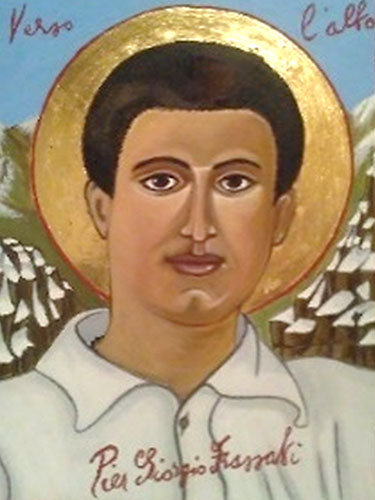 Blessed Pier Giorgio Frassati (6 April 1901 – 4 July 1925) was an Italian Roman Catholic social activist and a member from the Third Order of Saint Dominic.[2] Frassati was dedicated to social justice issues and joined several charitable organizations to better aid the poor and less fortunate living in his hometown of Turin; he put his own pious beliefs into practice to cater to their needs and was best known for his devotedness and his amiable character.[3][4]
Frassati was an avid mountaineer who often climbed with his friends; he was an able swimmer and athlete best known for engaging in such social activities with a range of like-minded friends.[5] His charitable outreach towards others knew no bounds for he identified with and aided the poor and ill from his childhood. His social status granted him greater freedom in aiding others who needed it most.[6]
His cause for canonization opened in 1932 after the Turin poor made several pleas for such a cause to open. But Pope Pius XIIsuspended the cause in 1941 due to a range of allegations later proven to be false which allowed for the cause to resume. Pope John Paul II beatified Frassati in mid-1990 and dubbed him the "Man of the Eight Beatitudes".