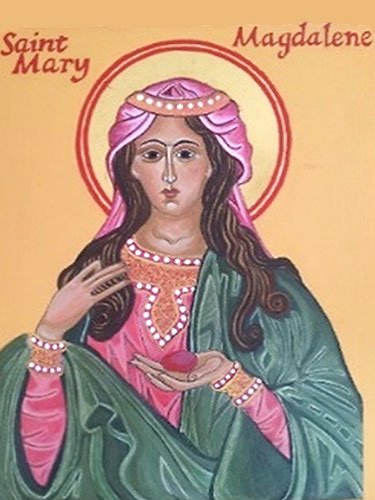 Saint Mary Magdalene  literally "Mary the Magdalene") sometimes called simply the Magdalene, was a Jewish woman who, according to texts included in the New Testament, traveled with Jesus as one of his followers. She is also said to have witnessed Jesus' crucifixion and resurrection. Within the four Gospels she is named at least 12 times, more than most of the apostles.
The Gospel of Luke says seven demons had gone out of her,  and the longer ending of Mark says Jesus had cast seven demons out of her.  She is most prominent in the narrative of the crucifixion of Jesus, at which she was present, and the witness in all four Gospels of the empty tomb, which is central to narratives of Jesus' resurrection. She was also present two days later, immediately following the sabbath,when, according to all four canonical Gospels, she was, either alone or as a member of a group of women, the first to testify to the resurrection of Jesus. specifically name her as the first person to see Jesus after his resurrection.
Mary Magdalene is considered to be a saint by the Catholic, Eastern Orthodox, Anglican, and Lutheran churches—with a feast day of July 22.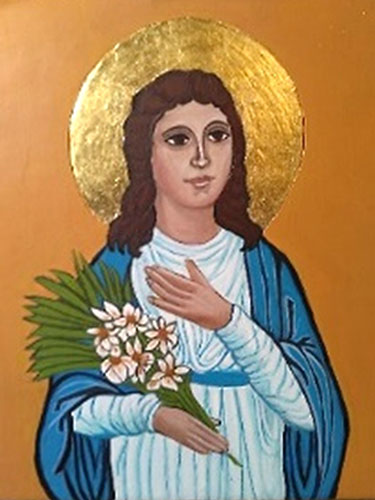 St. Maria Goretti (October 16, 1890 – July 6, 1902) is an Italian virgin-martyr of the Catholic Church, and one of the youngest canonized saints.[1] She was born to a farming family. Her father died when she was nine, and they had to share a house with another family, the Serenellis. Maria took over household duties while her mother, brothers, and sister worked in the fields.
One afternoon, Alessandro, the Serenellis' son, made sexual advances to her. When she refused to submit to him, he stabbed her fourteen times. She was taken to the hospital but she died forgiving him. He was arrested, convicted, and jailed. During imprisonment he repented. After 27 years he was released from prison, and visited her mother to beg forgiveness, which she granted. He later became a lay brother in a monastery, dying peacefully in 1970. She was beatified in 1947, and canonized in 1950.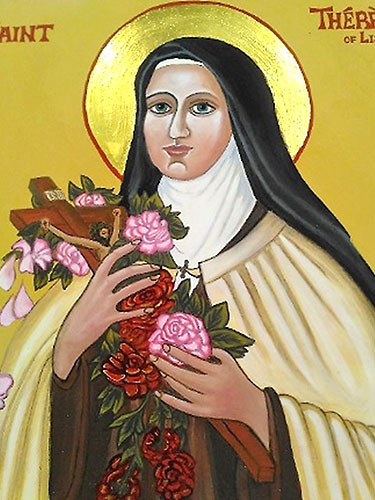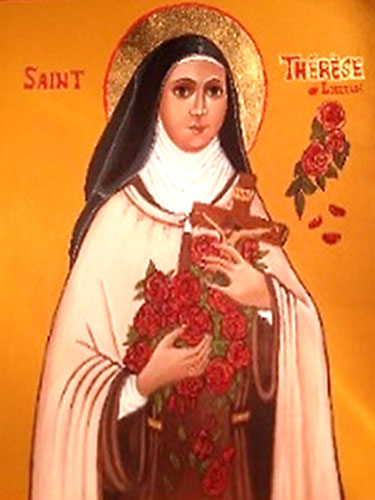 (French: Sainte-Thérèse de Lisieux), born Marie Françoise-Thérèse Martin (2 January 1873 – 30 September 1897), also known as Saint Thérèse of the Child Jesus and the Holy Face, O.C.D., was a French Catholic Discalced Carmelite nun who is widely venerated in modern times. She is popularly known as "The Little Flower of Jesus" or simply "The Little Flower".
Thérèse has been a highly influential model of sanctity for Catholics and for others because of the "simplicity and practicality of her approach to the spiritual life". Together with Saint Francis of Assisi, she is one of the most popular saints in the history of the church. Pope Saint Pius X called her "the greatest saint of modern times"
Thérèse felt an early call to religious life, and overcoming various obstacles, in 1888 at the early age of 15, she became a nun and joined two of her elder sisters in the cloistered Carmelite community of Lisieux, Normandy. After nine years as a Carmelite religious, having fulfilled various offices such as sacristan and assistant to the novice mistress, and having spent her last eighteen months in Carmel in a night of faith, she died at aged 24, following a slow and painful fight against tuberculosis.
Her feast day is 1 October.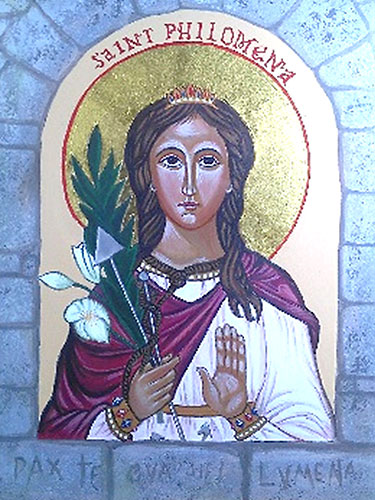 Little is known about the life of St. Philomena. However, it is believed she was a Greek princess who became a virgin martyr and died at 13-years-old.
Remains of a young lady were discovered in May 1802 at the Catacombs of Priscilla on the Via Salaria Nova with three tiles reading "Peace be to you, Philomena."
All that is known about St. Philomena's life comes from a Neapolitan nun's vision. Sister Maria Luisa di Gesu claims St. Philomena came to her and told her she was the daughter of a Greek king who converted to Christianity. When Philomena was 13-years-old, she took a vow of consecrated virginity.
After her father took his family to Rome to make peace, Emperor Diocletian fell in love with Philomena. When she refused to marry him, she was subjected to torture.
St. Philomena was scourged, drowned with an anchor attached to her, and shot with arrows. Each time she was attacked angels took to her side and healed her through prayer. Finally, the Emperor had Philomena decapitated. According to the story, her death came on a Friday at three in the afternoon, the same as Jesus. Two anchors, three arrows, a palm symbol of martyrdom, and a flower were found on the tiles in her tomb, interpreted as symbols of her martyrdom.
Mother Teresa of Calcutta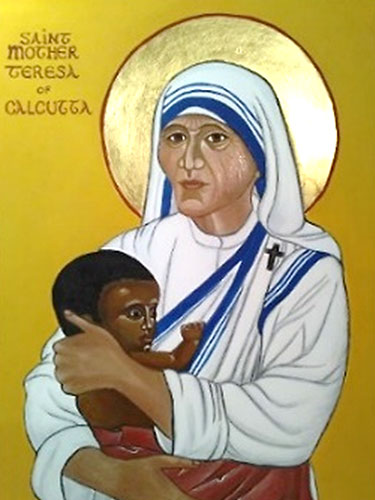 Mother Teresa, known in the Catholic Church as Saint Teresa of Calcutta[6] (born Anjezë Gonxhe Bojaxhiu;; 26 August 1910 – 5 September 1997), was an Albanian–Indian Roman Catholic nun and missionary.[7] She was born in Skopje (now the capital of the Republic of Macedonia), then part of the Kosovo Vilayet of the Ottoman Empire. After living in Macedonia for eighteen years she moved to Ireland and then to India, where she lived for most of her life. In 1950 MotherTeresa founded the Missionaries of Charity, a Roman Catholic religious congregation which had over 4,500 sisters and was active in 133 countries in 2012. The congregation manages homes for people dying of HIV/AIDS, leprosy and tuberculosis; soup kitchens; dispensaries and mobile clinics; children's- and family-counselling programmes; orphanages, and schools. Members, who take vows of chastity, poverty, and obedience, also profess a fourth vow: to give "wholehearted free service to the poorest of the poor".
Mother Teresa received a number of honours, including the 1962 Ramon Magsaysay Peace Prize and 1979 Nobel Peace Prize. She was canonised (recognised by the church as a saint) on 4 September 2016, and the anniversary of her death (5 September) is her feast day